CMKyrios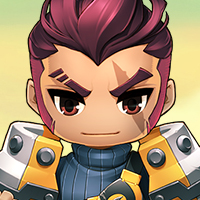 MapleStory 2 Rep: 4,375
Posts: 388
Administrator

What a first year of Mapling! We'd like to hear what your favorite memory of the game was so far as we enter the second year of MapleStory 2! Share a picture with or without your friends and tell us in a few sentence what stuck to you.
SUBMISSION DATES
Contest ends on October 9th, 2019 at 23:59:59 Pacific Time
HOW TO ENTER
1) Submit one screenshot of your character. Friends optional!
2) In a few sentences, share your favorite memory from the game in this past year.
3) Share items 1 and 2 with your character name and server in this thread!
JUDGING CRITERIA
Screenshot: 40%
Story Sentiment: 60%
PRIZES
Up to
3
selected entries
per server
(15 total) will receive:
- 1,111 Red Merets
- Rustic Mushcabin Name Tag
Up to
10
additional participating entries
per server
(50 total) will receive:
- 1,111 Red Merets
Read official rules here >>
http://forums.maplestory2.nexon.net/discussion/45846
This discussion has been closed.