Tessadryl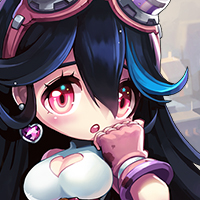 MapleStory 2 Rep: 1,070
Posts: 24
Member
...is not the the absurd level of RNG in this game-- but the absurd level of complaining about RNG.

One can say that Nexon is partly to blame, for the state in which the game released. Making Onyx Crystals account-bound should have been a thing from the beginning (hell, i would make them player-bound, if you ask me). I'm not going to blame the elitists who suppressed information during the launch, I'm not going to blame the mesobots that have destroyed the market, I wont even blame the RNG in this game.

I blame the lack of awareness in people.
What Do i mean by that?

... "Why do I want to play this game?" ought be a question that everyone asks themselves.
To me, when I first picked up GMS2, the thought of being a hardcore raider was something I rejected, and pushed aside. I was picking up a cute, fun MMO with a GF who's never played an MMO b4. Introducing her into that stressful environment that I knew well enough, from the years of raiding in other games, was something I thought I wouldn't do. For a short moment, it happened. I can't remember when it happened-- perhaps when my Main hit lvl 50, and I saw the hard adventure dungeons. Something clicked, an old familiar feeling of grinding for progression. But that wasn't why I wanted to play the game. My reason for playing, was quickly forgotten upon being able to do endgame content.

In the beginning, I wanted to delve into a world, enjoy the landscapes, follow the story, play music throughout my adventures and even draw some custom icons for my Main (and soon to be alts). Exploring the UGC, drawing up some awesome armor and weapons; spending hours at night, figuring out how to import my weeb music. There was a tonne of enjoyment that GMS2 gave when this journey began.
Even gearing up, once I hit level 50, wasn't so bad. I got a weapon with moderate stats, began enchanting them, and looked forward for the next hard adventure dungeon that i hadn't gone on yet. But... that moment of joy was only temporary,
because Chaos Raids were going to be introduced.

I remember when the raids launched, before the server reset (which I still find absolutely stupid, but okay Nexon). I remember thinking, "I wonder if I can PUG this with others." I looked up the videos on youtube, memorized the most obvious mechanics, and went with a party expecting to wipe a few times, while we all learned the fight. However, little was I prepared for what came next. Because there was no new content, besides the Chaos Raids, they were all the rave. So much so, that... when people quickly realized that this was impossible to clear, the confusion and frustration bore fruit. Not only did it sprout, but holy **** did it take off!

I questioned Nexon's vision with the Chaos Raids, and to my amazement, they released a dev-blog explaining their philosophies concerning Chaos Raids. I knew then, that the overhype for Chaos Raids, was going to be the community's dark descent (puns~). I never wanted to be a raider. I just wanted to enjoy a cute, fun MMO. The community was 17 levels beyond not pleased. Nexon's execution was beyond abyssal. Now look at the state of the game. I can't tell if we're still in Maple Land, because with all this toxic comments. It feels closer to the Land of Darkness instead.

As I type this, I just got my 4th character to level 60. I haven't been playing for a few days now. Like many others, I am waiting for the Soul-Binder to be released with the new content. But I want to leave you all with that question I asked a few paragraphs ago. "Why do I want to play this game?" Will perfect stats bring you enjoyment? Will defeating the raid content-- and then doing so a million more times for a minuscule of a chance for perfect gear bring you enjoyment? Even if Nexon nerfs the living heck out of the game, and makes it unchallenging, to the point that Chaos Raids become the next Fire Dragon, will that bring you enjoyment? I wager... probably not.
I'm not saying that there aren't legitimate problems with the game. Nexon is trying their best to implement half-measures to lesson the frustration enough to keep you grinding at that RNG some more before you decide to leave as well. So, since this new content patch is going to bring a number of people back, ask yourself that question.
"Why do I want to play this game?"