How to fix the game for the better
Beariie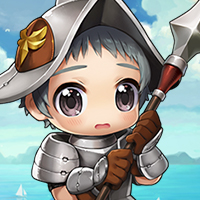 MapleStory 2 Rep: 1,815
Posts: 160
Member
Simple steps to ensure this game has an actual future. From a design standpoint*

1) Remove Dungeon caps for Normal. Remove Weekly caps from Hard.
Why? There is no need to limit the characters progression, the game is already a month out so there is no need to complain about being left behind by others, youl still have other to play with and its becoming the most asinine reason for keeping a dungeon limit in the game. Let the player play as long as they want without feeling forced to take a break, if the game feels like a chore you may lose a player. If there is no limit, they can plan there journey out the way they want to. Ofcourse you can keep it on hard mode(Even though I personally dont care much for the cap here either).

2) Add in Repeatable Party Quest in the actual world
Why? This gives players another option aside from farming dungeons for progression. These repeatable quest can give value in terms of mesos and materials for upgrades. Keep it untradable. Botting is a issue that shouldnt be effecting how your playerbase is able to experience the game. Its a issue nexon needs to deal with themselves if they ever choose to. Me and other should not have to be limited just because the problem cant be handled, meaning just because bots can abuse it, doesnt mean it shouldnt or cant be added. To keep the repetitive nature down to a minimum, randomize the target monster every quest, the progress is shared when every party member is on the same map. Add trophies if possible for X amt completed.

3) Get rid of Vote kicks in matchmaking (Not precreated parties)
If someone is afking or botting, this should be known from the beginning of the dungeon, its at that point the player should take action and communicate with the other members on if they want to continue or remake a party. Being able to kick a member when X dungeon boss is at X HP should not ever be a thing, period.

4) Good work on putting your foot down and saying no to nerfing the chaos raids. Keep this attitude when it pertains to content thats supposed to be challenging to clear. Dont cave in to players that want it easier, past mmos have taken this path, they have lost a lot more then they gained (even WoW). But offer engaging ways for players to take paths to progress there characters more then having it behind gated content. (See Step 2 for an example)

5) Make Events fun
The past 2 events have been a bit, lacking (IMO). The Halloween event was basically log in daily to hoard pumpky food, kill 13 monsters, and thats it. Other one was log in daily for coins for a chance to get rewards. These events werent at all engaging. I know that you get your content from KMS and if your not allowed to make changes to the game interm of content I understand, but you gotta do things to livin up the community and get them hyped to play the game during these times.

6) Moderate your UGC Shop.
Theres so many issues with this.