Futah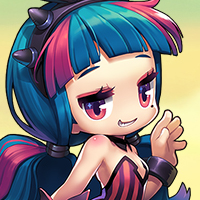 MapleStory 2 Rep: 765
Posts: 8
Member
A lot of people bought Founder's pack specifically because they wanted to be the first to reserve their names.
With the release of Rune Blader, there's a lot of people that want to main that class, but their names are now stuck to another character, deleting and remaking said character isn't an option either because of the founder's pack rewards.

So, an easy solution would be giving a temporary item that lets people change their classes into RB once it comes out, so that they can keep their names and trophies that they got during munchkin... While also not losing their founder's rewards that they payed so much money for...

So, this is my plead, I hope I'm heard and that people agree with me, though I'm not too hopeful, I can at least voice my opinion.

EDIT: Like Pinch suggested below, a name change ticket would also kind of do the trick, except we'd still be kinda screwed on our munchkin progress in this pre-event, since it would be stuck to our alt character and not our new runeblade. Our Founders rewards would also be stuck in that character and not usable by our runeblader, not to mention we payed for a 9-day head start, but it's useless to play on that period since runeblader only comes out in the 10th. But yes, technically, a name change ticket would allow us to keep our stuff (in an alt character) then allow us to make a new runeblader with the name we want, but for these reasons, I still believe a chass change ticket specific to runeblade would be a better option.

EDIT2: Keep in mind that this is only being an issue because they're making things that people PAYED for completely useless, they're screwing up people that payed up to $100 for rewards that they cannot make use of. Were that not the case, this wouldn't be an issue and everyone would be fine with making this new character.
Do you agree with my proposition?

49 votes

I agree

&nbsp

63%

(31 votes)

I disagree

&nbsp

33%

(16 votes)

I have a better idea (write below)

&nbsp

4%

(2 votes)