Ginsama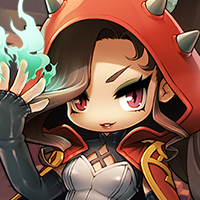 MapleStory 2 Rep: 1,940
Posts: 73
Member
Currently, this is /the most/ common complaint that I see around the game world right now... needing too much onyx and needing to play AltStory2 to even have a chance at upgrading in timely manners. With very few ways to farm onyx by yourself, people are even resorting to transferring bound onyx via Savagery gear to their alts and in some cases enchanting them and selling them off for 4m on black market.
Oh, but wait, we got an event this week! It has onyx in the shop! Gotta rush to get tha-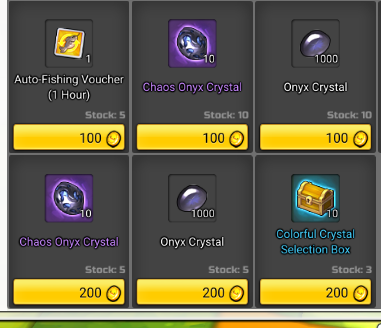 It's 15k for literal days of ducky coin grinding. 150 conyx for the same price. The only thing really worth it in this event shop IMO are the gem dust chests.
I struggle to gather my thoughts and relate this in a coherent and convincing way: With the introduction of /3/ sets that we have to build in order to RGB, our onyx costs have sky rocketed. In just raw tradeable onyx, I gather about
5-6k
9k from each of my 7 alts for a rough total of 63k before I even get into considering transferring my bound onyx.
Getting +10 on all 3 sets drained every last piece of banked resource I had. I remember at one point spending 20 million on a +9->+10, and I'm fairly sure that was my enigma weapon to get into ToT. Now I'm in a predicament.
1. ToT is soul crushing and most parties want +11. when I go to peachy, I see this: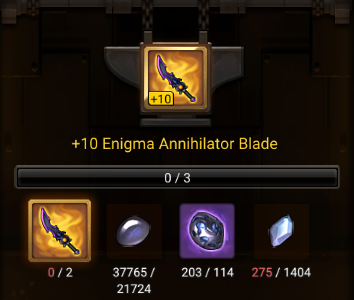 At 500 onyx each thats a 30,000,000 drop in mesos. Before Chaos Onyx. Before the Cfrags.
2. I'm technically able to clear ToT with a carry party so a part of me as well as some other people have said to just focus on my main weapon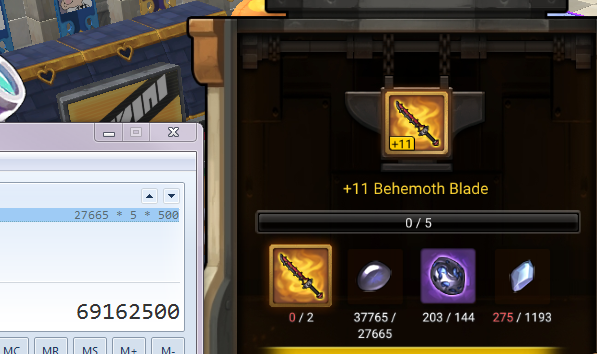 roughly 135k onyx and a near 70million investment at peachy. No I will not be trying Ophelia. EVER.
at these levels of enchants, the amount of onyx we're being offered in this event and the availability of it overall is not sufficient for a
healthy, goal oriented playstyle
.
As it stands, this game encourages you to make multiple alts( in some cases I know of people with multiple /accounts/ in order to just be able to solo farm their onyx ) and dully grind out your onyx to the tune of 30 seconds~3 minutes, 30 times, 7 times a week.
This is the argument about dailies all over again. If I want to bridge this gap at raw grinding, the best I can think of is dismantling gear drops at treva, which gives 10~50 onyx per chest per portal, but of whoms solid clear times I do not have numbers for. the absolute best I've clocked is about 1500 in an hour and that was with quite a bit of luck in getting a lot of boss portals.
I'm at the point where I do not know what this game is telling me to do. There are elements of casualness, where the game is telling me to not worry so much about getting into the content ASAP. There are elements of hardcore, where we've been encouraged to race to the finish asap(Gratz NAW on BSN clear). I've said it before, but the measuring stick no longer seems to be the normal player.... it continues to be the day 1 hardcores that will crush it no matter what you put in their way anyway because that's what they do; be the best no matter the cost.
So what would you do about it, Ginsama?
Allow significant amounts of onyx to be farmed out? An amount where I'm not looking at a 60+hour grind or expected to throw more than my weekly dungeon meso sum at? I recommend the currently neglected Treva shop, but this issue needs much more consideration to
The NA audience who will burn out long before these goals are met
Later edit: I wrote a good little nugget in the other thread and I wanna put it down here for reference:
1. The amount of resources for doing something with a cap should always produce the most resources for its level of effort. . Currently, you could say this about the dungeon system as it stands at the moment. Sky fortress gave us trade ribbons, in another example. In this way, I find that limited gear drops are healthy for the game, as it provides a proper time gate that can't be bypassed but CAN be prepared for each week, if this makes sense.

2. If it has a cap, that cap should be worth the time it takes to clear it. This is where the game currently has problems. I for one welcome the increased meso's for dungeon caps as it means I just have to spend about 6 hours in a week to make sure I keep my house AND I get two weeks worth of meso to just spend on myself. It's honestly not too much of an issue for me, but therein lies the problem; if I relate that, even partially, it means I'm supporting the decision to make this game Alt Story 2. I recognize this is a problem that I am benefitting from. One person thinks this is great, the other thinks this is crap, and they will argue to the ends of the earth to prove their point instead of looking for a compromise.

3. When going for a goal, and you have capped out on relevant things toward that goal, you should still have an avenue to pursue it that is worth your time. this is where the game completely fails to provide any meaningful ways of continuing to pursue a goal. Lack of significant onyx drops. LAck of any place to farm more gem dust when gems are actually a piece of toxic gameplay now. I wanted to mention potions but ways to farm elixirs exist, potion availability in general could be a lot better.