Learn everything about the latest update in-game from the May 30 expansion patch notes!

>> http://maplestory2.nexon.net/en/news/article/48341/awakening-patch-notes
Did your "Striker Daily Wonders" somehow disappear even though you thought you claimed it? Read here first:

>> http://forums.maplestory2.nexon.net/discussion/45521/notice-regarding-striker-daily-wonders
CMKyrios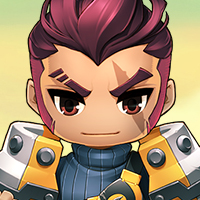 Maplestory 2 Rep: 1,800
Posts: 138
Administrator

[Updated April 17]
: Thanks for all the feedback! After hearing your thoughts, we and the development team went back to the drawing board to see if there's any further adjustments we can make. We're happy to report that we are ready to present to you an updated example that better reflects what our original intention was: make Peachy's Enchants a viable option without rendering Ophelia obsolete.
To achieve this, we've narrowed the margin of difference between the two methods, but still keeping Peachy's resource requirements higher than Ophelia. Compared to the numbers we presented initially, we feel this is much closer now enough to be seriously considered for those who'd like to opt for the safer, guaranteed method. Check it out below!
---
Dear Maplers,
Today, we're going into detail about the upcoming
changes to enchantment
and news about a
64-Bit Client
. As a reminder, here's a quick overview of what's to come in the Progression Improvement Update:
Progression Improvement Update (tentative date April 25th):
Enchanting Changes: Today's Topic
...and more!
Let's dive into today's topic right away.
Peachy Enchant
In MapleStory 2, there are two NPCs that can help you enchant your equipment, Ophelia and Peachy. Ophelia offers quick attempts with a random chance of success, while Peachy offers expensive but guaranteed methods to upgrade your equipment.
Until now though, Peachy's enchanting method has been rarely used due to the significant costs that it required. When we looked to improve enchantment, we wanted to keep the concept of two methods to enchant intact but also offer you better choices. As such, we will change
Peachy's enchants to require similar amounts and types of resources on average when compared to Ophelia's enchantment attempts
.
Current Peachy Enchant for Lv. 50 Legendary Main hand / Two-handed Weapon
Peachy Enchant for Lv. 50 Legendary Main hand / Two-handed Weapon after Progression Improvement Update
Above is the before-and-after required resource charts for Lv.50 Legendary Main hand / Two-handed Weapon as a sample. This change will occur for all weapons and armor with the same idea in mind. What this means is that you can now safely use Peachy to build up and guarantee your enchantments, without spending much more than Ophelia would normally cost you.
Also with this change, Peachy will no longer require any Crystal Ore to enchant your gear. We'll discuss what will happen to Crystal Ore below.
Ophelia Enchant
You may be wondering what will happen with Ophelia enchanting method after the update, given the changes that have come to Peachy. With the introduction of guaranteed methods with Peachy, you may wonder if Ophelia may become abandoned by most players. That said, we're choosing to keep Ophelia around as is because Ophelia enchant may still be beneficial in certain circumstances:
Peachy enchant's resource requirements are based on the average amount of resources needed for a successful Ophelia enchant with a normal amount of fail charges spent on the enchant. As such, there's still a chance that you will end up spending less on an Ophelia enchant than one by Peachy. If you'd like to take your chances, the option will remain available for you.
Ophelia's method also lets you improve the success rate if you have a large surplus of duplicate items or fail charges saved up, while there's no way to change the cost of Peachy's enchantments. If you are okay with spending a lot more Onyx, Chaos Onyx, and Crystal Fragments than with Peachy, Ophelia's enchantments may get your gear to +15 much faster.
We still
highly recommend Peachy's enchantments
to most players, and we designed our UI to reflect this because it is an easier system to understand with little downside. But if you've already accrued significant amount of fail charges on your gear, it will likely be cheaper for you to continue Ophelia enchantments  until the failure charges are used up.
Crystal Ore
With the Progression Improvement Update (tentatively April 25th), Crystal Ore will no longer drop from the game and will not be required for Peachy's enchants.
BUT PLEASE DO NOT THROW AWAY YOUR CRYSTAL ORE!
We are currently finalizing a plan that to let you exchange your hard-earned Crystal Ore into valuable enchantment-related resources in the update that follows the Progression Improvement Update (tentatively late May). The more Crystal Ore you have, the more you will benefit, so we'd recommend stocking up while you can!
64-Bit Client
Additionally, we ready to bring up 64-bit client compatibility. Having MapleStory 2 fully utilize the strengths of a 64-bit operating system has been a common optimization request, and we've been working on the side to get this implemented soon. We're happy to report that we are planning to launch the new 64-bit client during the April 17th maintenance! After next week's maintenance, you will be able to choose between the 32-bit and 64-bit versions of MapleStory 2 from both the Nexon Launcher and on Steam, and check out the improvements for yourself.
Please note that 64-bit version of MapleStory 2 is still fairly new and, depending on the hardware and software of your computer, you may have different experiences (such as longer loading speeds between maps). You can still use the 32-bit client if that gives you a better performance, and we will be addressing issues found with the new 64-bit client to improve it for everyone.
We kindly ask that the discussions in the threads above be focused on the information shared in today's blog. Please do note that many things we discuss here can change by nature of opening up these topics early for discussion. We'll always do our best to improve upon our ideas based on your feedback. As always, thank you for being patient with us and for being a part of Project New Leaf!
See you in game,
LAMBCOOK