Learn everything about the latest update in-game from the May 30 expansion patch notes!

>> http://maplestory2.nexon.net/en/news/article/48341/awakening-patch-notes
Did your "Striker Daily Wonders" somehow disappear even though you thought you claimed it? Read here first:

>> http://forums.maplestory2.nexon.net/discussion/45521/notice-regarding-striker-daily-wonders
CMKyrios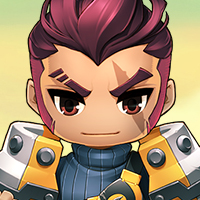 Maplestory 2 Rep: 1,650
Posts: 117
Administrator

[Updated April 17]
: Thanks for all the feedback! We're making a quick update to inform you that with this change, the Gemstone Upgrade failure trophies will no longer be available to obtain after the update, and will be removed from your trophy list unless you earned them before Progression Improvement Update on April 25th. Meanwhile, the Gemstone Upgrade Attempt and Success trophies will remain visible and attainable after the update.
Please note that B1/B4 related trophies also will become unavailable in same fashion as Gemstone failure trophy at the end of May when the entrance is closed.
---
Dear Maplers,
Today we will delve into the question that many of you have been asking about: Gemstone changes. We originally had this question divided into three topics under upgrades, resources and meso costs, due to their individual sizes. However, as it will be much easier to understand our intent when viewed as a whole, we are combining all the Gemstone-related changes into one topic today to discuss in full.
As a reminder, here's a quick overview of what's to come in the Progression Improvement Update:
Progression Improvement Update (tentative date April 25th):
Gemstone Changes: Today's Topic
Enchanting Changes
...and more!
We've been saying that this is a big change and we really mean it! These changes will simplify the Gemstone system to be easier to understand and more accessible. Let's dive into this topic with an overview of how Gemstones will be changing.
Overview
To simplify Gemstones, we had to make some hard choices and remove parts you may have seen as critical.  Let's start with what is likely the most controversial part of the changes: Removals.
Below is the list of systems and drops we will be removing:
Rusted Keys: With Rusted Keys removed, keys to Abandoned Mine B1/B4 will no longer drop.

We understand this will remove one potential source for the highly coveted Accessory Lock Scroll, and are working to determine what additional changes may be needed to compensate.
Additionally, we are aware that gathering and selling Rusted Keys is an activity some players depended on to make mesos. We believe that the changes we have made to progression and meso sinks should help counteract some of this loss.

Access to B1/B4 Dungeons: B1/B4 dungeons will be open to key holders for a month and the access to these dungeons will be closed at the end of May.
Gemstone related items from Treva Shop
Gemstone related drops from Chaos Raid Clears
Gemstone related drops from Fortress Rumble Clears
Gemstone related items from Daily Mission - Power Mission Box
I know this sounds like a lot of reduction, but here's what we will be adding in their stead:
Gemstone Boxes will allow you to choose the Gemstone type of your choice
Dust Boxes will allow you to choose the Dust color of your choice
All future Gemstones obtained will be account-bound (character-bound Gemstones obtained before the update will remain character-bound)
All Gemstone upgrades will be guaranteed
Gemstone unequip cost will be massively reduced
We intend to make Gemstones and Dust Boxes readily available and let you reap the benefits for putting in your effort. To achieve this, we will entirely remove random elements from Gemstone progression, greatly shorten the grind time, and significantly reduce related meso sinks. As a result, we expect Gemstone upgrades will now take roughly 20% of the time and require 20% of the mesos compared to before, prior to taking into account B1/B4 dungeon related costs.
Let's delve into the specifics of how this change will work.
Gemstone / Dust Gain
Here are the locations where you will be able to receive Gemstone-related resources after the Progression Improvement Update on April 25th:
Hard Adventure Dungeon Clear Rewards will include:

Gemstone / Dust Selection Box: Upon opening, you can choose the type of Gemstone or color of Dust you receive. Up to 30 Tier 1 Gemstones or 1,800 Dust a week.

Stellar Glass can be converted to

Gem Dust Selection Box: Upon opening, you can choose the color of Dust you receive. Up to 1,000 Dust a week, same as current.

Guild Gemstone Shop

Gem Dust Selection Box: Upon opening, you can choose the color of Dust you receive. Up to 300 Dust a week.
The amount of Dust available will be highest in Hard Adventure Dungeons, followed by Stellar Glass and the Guild Gemstone Shop. All Gemstones received from the above locations will now be account-bound, whereas Dust will remain character-bound.
Gemstone Upgrades
Upgrading Gemstones require 3 different colors of Dust, as well as a number of Crystal Fragments per attempt. The amount and success rate for each upgrade attempt, as well as the average number of materials, currently looks like the following.
We will keep the type of resources needed the same, but make each upgrade guaranteed after spending the following amounts:
On average, this change will reduce the average resource costs per successful upgrade of all types to 20% of the previous cost. Combined with Gemstone / Dust gain changes, the expected time it will take to upgrade all 9 Gemstones to Tier 10 will also be roughly 20% of the previous time.
Gemstone Extract Cost
We are making Gemstone upgrades much easier to help you get your character stronger. But if the cost to unequip Gemstones from sockets remained as is, we would be essentially asking you to get brand new sets of Gemstones whenever you find better accessories. Our newly proposed design is to make Gemstones readily available and allow you to have room to experiment with various types to find what works best for you. To truly achieve this, we will be massively reducing the amount of Crystal Fragments needed to unequip Gemstones with this update as well.
As you can see, the new required amounts will be insignificant compared to the amounts required in the current system, which allows you to freely equip/unequip Gemstones for experimentation.
Beyond
With Gemstones being one of the items that took tons of time and resources to upgrade, you may be curious what will be left to tackle after we make Gemstones more accessible with this update. It has been our general plan to review  in-game systems andremove the random elements from them. Pretty soon, some of you may feel like you've run out of things to do in MapleStory 2.
Fear not! The Summer Expansion update we are preparing is packed with vast and exciting new content. There will be tons of new challenges and activities filled with adventure! We're also actively improving future content, based on the current changes we have been making with Project New Leaf. We will follow through with our promise of Project New Leaf, improving MapleStory 2 by listening to you, our players.
We kindly ask that the discussions in the threads above be focused on the information shared in today's blog. Please do note that many things we discuss here can change by nature of opening up these topics early for discussion. We'll always do our best to improve upon our ideas based on your feedback. As always, thank you for being patient with us and for being a part of Project New Leaf!
See you in game,
LAMBCOOK