Community Manager Kyrios Intro
CMKyrios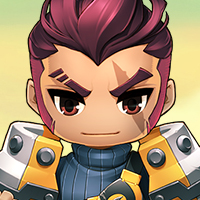 MapleStory 2 Rep: 4,030
Posts: 321
Administrator
Hello Maplers!
My name is Kyrios, and I'm excited to serve as MapleStory 2's community manager from today onwards!
As some of you might have already caught on, prior to this I was a content creator for MapleStory 2. I spent a lot of time learning production when it came to streaming but prior to all of this I worked in Trust & Safety for an online gaming platform called Twitch.
The name Kyrios has many meanings, but the only one from all of them that resonates with me is
teacher
. I'm hoping that I can continue working hard as I did before to educate players new and old about the game while carrying out my responsibilities as the Community Manager.
My biggest goal is for my involvement in the MapleStory 2 project to help bridge the communication line between players and the team here at Nexon.
Please give me a brief adjustment period while I acclimate to the environment here. I look forward to working with you all to help shape our beloved game into a better one each month.
I know many of you have great expectations from me, so help me out by regularly providing your input on the game on any of our feedback channels. Whether it's here on the official forums, our Discord, on the Reddit, through Twitter, or otherwise – all feedback is valuable, regardless if it's critical or praise. Let us know what we're doing well and what can use improvement. I will be certain to read it all day in and day out. And as always, if you're ever unsure of anything, our VFM team is always ready to help.
Thank you for all of your support before and moving forward. I'll see you all soon on the next MapleStory 2 livestream!
Cheers,
[CM]Kyrios
P.S.
- Here are a few things about me!
Favorite NPC: Veliche
Something about that look in her eyes...
Favorite Feature: Music
Probably one of the first things that caught my attention the first time I played this game... "I recognize that song!"
Favorite Class: ... Knight!
"It was lag." - Famous last words shortly before being kicked from the public raid party.
Favorite Animal: Shima-Enaga
These are genuinely the best winged snowballs in existence.
Favorite Anime: Haikyuu!
I loved volleyball growing up. I love anime too. This was the perfect show to me. Excited for season four!