Please read this notice regarding the Crystal Ore shop >> http://forums.maplestory2.nexon.net/discussion/45351/regarding-the-crystal-ore-shop
NXACuddles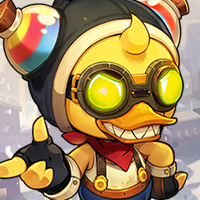 Maplestory 2 Rep: 69,130
Posts: 515
Administrator

Dear Maplers,
Now that we've explored the Meso Market, it's time we dive into the other changes we're looking to make with the Economy Improvements Update (tentative date: March 28th).
Today's blog will cover:
Epic Pets
Meso Sink Reduction
To rehash what we currently have planned, here's the remaining changes currently scheduled with Project New Leaf.
Progression Improvement Update: Tentatively April 25th
Enchanting
Gemstone Upgrades
Accessory Socket Opening
Gemstone Resource Gathering
...and more.
Without further ado, let's jump right in.
Epic Pets
For a lot of players in MapleStory 2, owning an Epic Pet has been an elusive dream. Epic Pets are extremely rare, and rightfully so given the benefits they can have. Epic Pets were originally reserved for those players who were lucky enough to find one, so they could hold their heads high after completing an impressive feat in the game. We don't want to change this dynamic, but we understand how sour one can feel when you've captured countless pets without finding an Epic Pet.
As such, we will be increasing the capture rate of Epic Pets by six-fold with our next update. This means it will be 6 times more likely that you  will catch an Epic Pet when you put down any grade of Snares.
We feel that this increase will still reserve the rarity of Epic Pets, but also make finding one considerably less onerous for determined players.
For those wondering about other ways to improve the odds of capturing an Epic Pet, we definitely recommend using Dryad G3 Snare on red-metered pets at minimum, because this will offer you the highest chance of capturing one. The capture rate for an Epic Pet increases by about 250% per grade (G1 / G2 / G3) and about 200% per pet meter (green / yellow / red). This means you have about a 2500% better chance at finding an Epic Pet with G3 Snare on red-metered pets compared to G1 Snares on green-metered pets.
Meso Sink Reduction
Based on our survey and the feedback we gathered, the cost of mesos within certain systems has been a common pain point, as this became a wall preventing some players from progressing further. With all the changes we are planning to make through Project New Leaf, we decided to re-examine the economic effects of these systems and look for ways we can ease the burden caused by meso cost.
To do this right, we've decided to bring these adjustments in two phases, with the first part coming in the Economy Improvements Update, and the second part reserved for the Progression Improvement Update. At this time, we are focusing our changes to systems with repeated mesos costs that have been daunting for many players, so that these systems can become more accessible.
For the first iteration of the Meso Sink Reduction, we will be permanently adjusting the meso costs for the following systems:
Change Attributes for Legendary Gear meso cost reduced by upto 80%
Accessory Fragment Fusion meso cost reduced by 90%
Legendary Gear
Currently, Legendary Gear (Headgear / Top / Bottom / Gloves / Shoes) requires 2,000 Crystal Fragments on the first attempt at changing its attributes. This cost will be reduced to 400 Crystal Fragments. Further attempts will also cost less, with each attempt increasing by a flat 400 Crystal Fragments per attempt (800, then 1,200, then 1,600 and so on), instead of increasing exponentially (by ~25%) with each attempt. As an example, the 5th attempt going forward will cost you 2,000 Crystal Fragments, down from 4,880 Crystal Fragments.
Accessory Fragment Fusion
All Accessory Fragment Fusion costs will be reduced by 90%. As an example, Epic Accessory Fragments Fusion cost will be set to 50,000 mesos, down from 500,000 mesos. Legendary Accessory Fragment Fusion costs will be reduced to 100,000 mesos, down from 1,000,000 mesos.
Please note that these are permanent changes that not only affect current equipment, but future gear will also be set with the same mindset as above.
This is the
first phase of Meso Sink Reduction
. We will have the second phase of Meso Sink Reduction combined with the Progression Improvement Update and are already discussing internally. We think this will be the right method, given the level of changes we are planning to make.
We kindly ask that the discussions in the threads above be focused on the information shared in today's blog. We'd love to hear your honest opinion so that we can improve MapleStory 2 together. As always, thank you for being patient with us and for being a part of Project New Leaf!
See you in game,
LAMBCOOK