Please read this notice regarding the Crystal Ore shop >> http://forums.maplestory2.nexon.net/discussion/45351/regarding-the-crystal-ore-shop
NXACuddles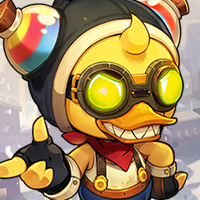 Maplestory 2 Rep: 69,130
Posts: 515
Administrator
Dear Maplers,
Before jumping into our first Project New Leaf changes, let's quickly recap the schedule. With today's blog we are revealing part of the changes that we will bring to the game in the March update. We'll review the feedback received and discuss internally to identify if there's any additional tweaks we need to make, and we'll announce them here on the Project New Leaf site once finalized. We currently expect to publish blogs with full changes and details every month and update that blog weekly based on feedback we receive, but this will depend on the topics under discussion. Once all details are finalized, we will move ahead with implementing them in the upcoming update.

Below are the parts of the game we intend to change in the
March update (tentative date: February 28)
, based on the feedback we have received so far. At this point we'd like to ask that any feedback you provide takes into account these changes.
Today's blog will cover:
Fairfight
Trader's Ribbon
We understand that there are other parts of the game you'd like to discuss as well, and we intend to address them going forward. For reference, here's our current list of topics that we will address with Project New Leaf at a later time.
Economy Improvements: Tentatively March 28th Update
Meso Sink Reduction
Meso Market
Gemstone Resource Gathering
Epic Pet
RNG and Progression Speed Improvements: April Update (Date TBD)
Enchanting
Gemstone Upgrades
Accessory Socket Opening
...and more.
Let's dive in to the first one:
Fairfight
.
Fairfight
MapleStory 2 has had a fairfight mechanic from the start and it always had some controversy attached. We believe that fairfight was originally a system to keep players together while engaging in end-game content like Hard Adventure Dungeons. That level of challenge allowed us to experiment with giving more rewards like the Dungeon Delight event, Dungeon Weekly Reset, and Toad's Toolkit. In today's game, however, it's not our intention for Hard Adventure Dungeons to remain at the same difficulty level while relying on repetition to lengthen your playtime and make your progression tedious.
As such, after a long internal review and discussion, we've decided to
remove the fairfight mechanic from Adventure Dungeons, both normal and hard
, in the March update.
The Dungeon Delight event for Hard Adventure Dungeons will stay in-game as originally planned, until March 28th.
Another common request regarding fairfight was that it be removed from World Bosses. While we see the frustration with World Bosses taking a long time to defeat, completely removing fairfight from World Bosses could lead to exceptionally geared players defeating the bosses nearly instantly. This would rob lower-level players of the chance to participate in hunting World Bosses. To address this, we will be
significantly reducing the HP of World Bosses (by 60%)
to reduce clear time with smaller groups while keeping the fairfight mechanic to encourage groups to form up to fight them together.
One last concern of fairfight is Fortress Rumbles. Fortress Rumbles are solo dungeons with a 1-time weekly clear requirement that we believe are appropriately balanced to challenge you without becoming a chore.
We will keep fairfight applied to Fortress Rumbles as is
.
To summarize
:
Fairfight for Hard and Normal Adventure Dungeons will be completely removed
Fairfight for World Bosses will remain, but we are going to lower the HP of World Bosses by 60%
Fairfight for Fortress Rumbles will remain as is
Trader's Ribbons
We are introducing Trader's Ribbons as in-game rewards to address meso earnings and a little bit of the RNG problem. Trader's Ribbons are items that you can use to enable your hard-earned gear to be sold once on the Black Market, or directly traded with another player. Originally designed as a premium shop item for other regions, we'd like to instead introduce this item as an in-game reward to allow players to trade gear that has great stats but doesn't fit your class, and that might be more desirable to other players at a different stage of progression.
Currently, the locations where you can earn the Trader's Ribbon will be as follows:
Chaos Raids:

Weekly Rank Rewards for the following Chaos Raids:

Hard Shadow Altar
Hard Moonlight Fortress
Ludibrium Clock Tower
Wrath of Infernog

We will add the following amount of Trader's Ribbons for each Weekly Rank Reward for the above Chaos Raids:

Rank A: 14 Lv. 50 Trader's Ribbons

Fortress Rumbles

Weekly Rank Rewards for all Fortress Rumbles:
We will add the following amount of Trader's Ribbons for each Weekly Rank Reward for all Fortress Rumbles:

Rank A: 8 Lv. 50 Trader's Ribbons
The amount of Trader's Ribbons you will need to enable trading for Lv. 50 Epic or Legendary gears differs per grade and per gear type. Below is a chart that lists how many Trader's Ribbons you'd need per grade / gear type.
Lv. 50 Epic

Weapons

Two-Handed: 48 Trader's Ribbons
One-Handed: 24 Trader's Ribbons

Top/Bottom/Headgear/Gloves/Shoes: 24 Trader's Ribbons
Accessories: 15 Trader's Ribbons

Lv. 50 Legendary

Weapons

Two-Handed: 96 Trader's Ribbons
One-Handed: 48 Trader's Ribbons

Top/Bottom/Headgear/Gloves/Shoes: 48 Trader's Ribbons
Accessories: 30 Trader's Ribbons
The Trader's Ribbon can be applied to regular dungeon rewards that are not tradable once upon looting. For example, you will not be able to apply Trader's Ribbons to boss-specific rewards, such as Nutaman's Earring either before or after being traded. When you look at the tooltip of a gear item, it will mention at the bottom if you can apply a Trader's Ribbon to the item. Please note that equipping the gear on your character will bind it to that character and make it impossible to apply Trader's Ribbons to the gear anymore.
Players who are able to achieve all A Ranks from all Chaos Raids and Fortress Rumbles can get
up to 96 Lv. 50 Trader's Ribbons each week
. As a result, these players will be able to trade up to 2 Lv. 50 Epic weapons or 1 Legendary weapon per week.
We expect that with Trader's Ribbons making it possible to trade gear, gear with great stats (including the desired purple bonus stats) that wasn't for your class can now be sold for mesos instead of being dismantled. This in turn helps mitigate random elements for players who have not been able to obtain gear with desired bonus stats through natural progression. The meso prices of these gears will be market driven and may require players to save up large amount of mesos to take advantage of this system. We'll closely monitor the market price of items after the update to address this concern through meso sink adjustments and the addition of a meso market system by the end of March.
Please note that this change will be applied to newly acquired weekly rank chests after the update occurs, and will not change the previously received weekly rank chests acquired from Chaos Raid / Fortress Rumbles.
In Closing
As some of you may have noticed, we've changed the order of what we will tackle first from our list in the previous Producer Blog. This is based on the community's feedback, including the results from a recent player survey. We are still going through the survey results but as you can see from the word-map below, fairfight was one of the most important topics we didn't discuss previously, and with these survey results we were able to come to a decision with the development studio.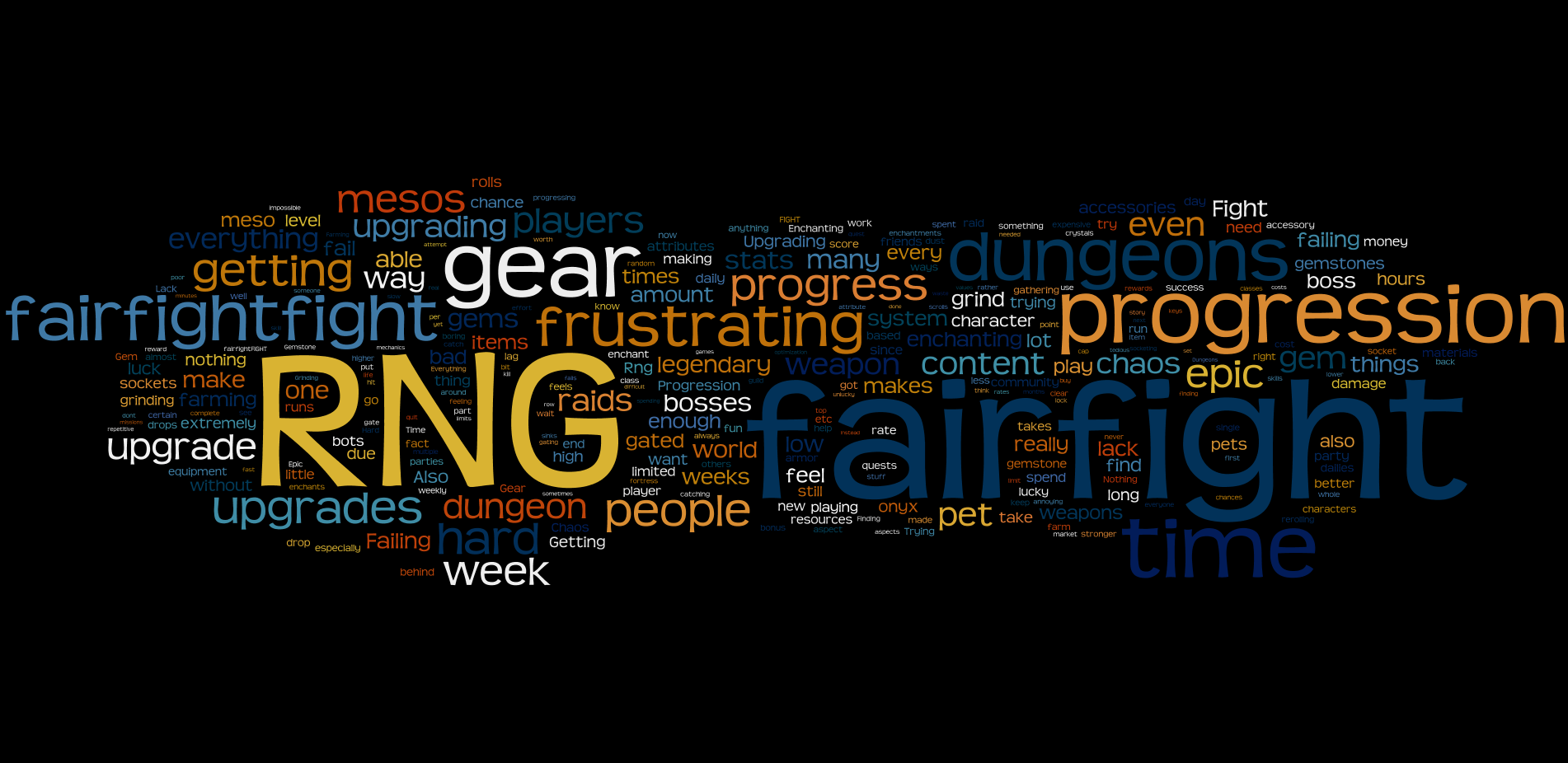 We plan to take action on the RNG and Progression parts of the equation throughout Project New Leaf. But seeing that concerns of Fairfight and Dungeon Experience are as high as they are now, we wanted to address these sooner, before other changes. While some changes had to be delayed, we believe that this is the right move for MapleStory 2 at this time.
Thank you for listening, and thank you for being part of Project New Leaf! We'll have more to share in the weeks to come, so don't forget to check back in!
Sincerely,
LAMBCOOK