Please do not send inquiries to the Forum Moderators and Community Manager Cuddles regarding forum name changes. Exceptions are only made if the forum name violates the CoC. Thank you for understanding.
Talnova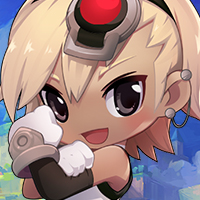 Maplestory 2 Rep: 2,065
Posts: 120
Member
Genuinely curious what people think about it. I am not asking Nexon to put it in, to be honest I don't know if it is a good idea, and I kind of err on the side of don't put it in....
But, before you scroll to the bottom and tick yes, think about the following first:

1. If you can buy blue Merets with Mesos, it gives free to play players access to everything in the cash shop. It means people with no money who still want a pretty or unique character can get it somehow.

2. People are already buying off gold farmers anyway, this gives those desperate people who would risk their account for mesos, a legal way to get it for money ** hopefully they will be banned soon though

3. The only really benefit to having a lot of Mesos is to buy particularly high ticket items like an epic pet or wings, which is probably a waste of IRL money anyway, since people will get that eventually anyway if they have a little patience. There is also upgrade costs and accessory costs, but with changes coming, I also think they are a waste of IRL money.

Because I can only make one poll, I would love if you comment on whether you personally like it, regardless of whether you consider it pay to win. Also do you worry this would be the beginning and give Nexon the door it needs to begin adding more pay to win items? Do you think if they removed the Meso cost for gear upgrades it would reduce the pay-to-win element?

.
.
.
.

I am kind of neutral if I am honest, I can afford to pay to play, but I don't really care to waste money on Mesos. BUT, I can understand the free to player player's plight of not being able to have access to anything in the cash shop.

Personally I HATE pay to win, but I have never considered "gold trading" pay to win. I consider pay to win to be items like gear with stats, boosters, potions/elixirs/food items (Yes, I am still salty elixirs are on the cash shop now, and would cheer if they were removed). I consider Meret-to-Meso to be more like pay to progress, and in general not very good value for money, but I like that it would open up cash shop items as an option to free to play players. I also think it would only be "fair" if it was for blue merets, not red merets.

At the same time I worry that the stigma of gold trading would kill the game, because I think a lot of people do consider it pay-to-win. Which is why I probably don't want it added to the game, but I kind of was curious what people think about it.
Is Meret-to-Meso pay to win?

61 votes

Absolutely YES

&nbsp

44%

(27 votes)

Yes and no... more like pay to get ahead

&nbsp

25%

(15 votes)

NO, not at all

&nbsp

31%

(19 votes)