Please read this notice regarding the Crystal Ore shop >> http://forums.maplestory2.nexon.net/discussion/45351/regarding-the-crystal-ore-shop
Heavy Gunner Damage Calculations
Alchemii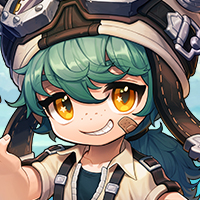 Maplestory 2 Rep: 1,190
Posts: 53
Member
While working on my build for raids, I did the damage calculations for most of the Heavy Gunner Skills... Except two, I'll explain why at the bottom
Bullet Spray: 156% r1, 264% r10
Bullet Spray + Adv Bullet: 324% r10 r10, 1296% over 4 seconds *
Lock-on: 446% r1, 725% r10 (37.2%, 60.42% dps) **
Lock-on + Adv Bullet: 740% r10 r10 (61.7% dps)
Magnetic Bomb: 819% r10 (81.9% dps)
Magnetic Bomb + Adv Pulse Weapons: 864% (86.4% dps)
Electric Blast r10: 743% (46.44% dps), 1486% (92.88% dps), 2229% (139.31% dps)
Electric Blast r10 + Adv Pulse Weapons r10: 758% (47.38% dps), 1516% (94.75% dps), 2274% (142.13 dps%)
Electric Blast r10 + Adv Pulse Weapons r10 + Blast Charge Kit r8: 560%, 1680% over 4 seconds (420% dps) *
Rocket Launcher: 1031% / 1046% r10 (85.9% dps / 87.2% dps) ***
Rocket Launcher + Adv Missiles: 1179.5% / 1194.5% r10 r9 (98.29% / 99.54% dps) ***
Homing Missile: 620% r7 (62% dps), 710% r10 (71% dps) ****
Homing Missile + adv Missiles: 687.5% r7 r9 (68.75% dps), 777.5% r10 r9 (77.75% dps) ****
Suborbital Bombardment: 640% r1 (21.3% dps) 1092% r10 (36.4% dps) **
Suborbital Bombardment + Adv Pulse Weapon: 860% r1 (28.7% dps), 1464% r10 (48.8% dps) **
M-Bomb: 550% r1 (18.3% dps), 892% r10 (29.7% dps)
M-Bomb + adv Missiles: 919% r10 r9 (30.63% dps)
The percentage of damage is the total potential damage dealt (aka if the mob stands still for the entire duration of a dot, or gets hit by all 5 homing missiles)
DPS is calculated by dividing the potential damage by the cooldown of the skill.
* Notes *
* - These two attacks are calculated over a 4 second period as they are direct competition with each other, and EB+BCK can get 3 attacks off before needing to reload. The 3 attacks and reload take roughly about 4 seconds with no atk spd boosting.
**-These attacks were calculated at rank 1 because it is not uncommon to see someone putting them in their build in only 1 rank.
***-Rocket Launcher has two different damage scores. This is because it does more damage to an enemy caught in the initial explosion, than an enemy hit head on by the rocket.
****-Homing Missile is calculated at r7 and r10, because r7 is the minimum rank needed to fire off 5 missiles optimizing chances to hit with certain strategies.
*Not calculated*
Gatling Fire was not calculated as it is mainly for dealing with groups of enemies, and there are plenty of other options for that.
Stun Grenades.... Are you really trying to use this in a Raid? I didn't think so.
*Thoughts*
Suborbital Bombardment, if you can afford to take it, take it. While this skill has overall the lowest dps of any skill in the Heavy Gunner kit, it also is a skill you don't have to put much thought into. The skill will target whichever enemy is closest to you. This is of particular note in CDev where I have managed to use it to take out the healing adds before they could heal. Though I haven't had much chance to recreate this scenario.
Bullet Spray vs Electric Blast+Blast Charge Kit. Under no circumstance does Bullet Spray out damage, or out dps, Electric Blast after getting Blast Charge Kit. Though Bullet Spray doesn't use Spirit while Electric Blast does... I'm going to go more in depth into this and actually work out the dps.
M-Bomb is the single weakest skill in the Heavy Gunner Kit. It's strict location of fire, short distance (compared to the other skills the heavy gunner has), it's difficult targetting controls on gamepad, and horrible dps makes it an unreliable option for dps'ing in raids at best. However, I would recommend taking 1 rank of it however, as an optional backup for dealing with the healing adds in CDev.
Finally, while I don't have exact numbers for it, do to limited testing options on my part, I can confirm Electric Blast + Charge Kit is effected by Attack Speed. By equipping a Laoz's Ring and Varrekant's Wings I gained an Attack Speed increase of 8%. This amount gave a noticeable speed increase. However, it was not enough to get more than 3 Electric Blast in 4 seconds. Though I have not noticed a speed increase to reload. I do not doubt that there is a speed increase there, just that it wasn't noticeable.
*Builds and Numbers*
Laser Build (the build I currently use)
Total Damage: 223,269
DPS: 1,240.38 dps
Bullet Build v2(this is a basic bullet build, something along the lines of what you might see people using)
Realized there was a better bullet build I could put together, which in theory was a 25% dps increase. So I did. Don't want it to be misrepresented after all.
Total Damage: 214,011
DPS: 1,188.95 dps
Total Damage is the Total Damage achieved after 3 minutes each.
DPS was calculated by dividing the the total damage by 180.
Testing was preformed by attacking a training dummy in the Chaos Raid Lobby. All equipment was removed, and my weapon was replaced with Steampunk Cannon.
Steampunk Cannon: Requires Level 14, Weapon Attack 54~88, Item's Base Weapon Attack Increased by 7, Health+17
This was done to ensure no outside contributions were being made to the damage. While the dps is very close, given the low damage of the weapon it is reasonable to assume that the gap in dps will become larger with more powerful weapons and proper equipment. However, I believe overall the difference won't be enough to warrant a player needing to change to rapid Electric Blast, if they don't enjoy that play style. A Bullet Build will do just fine.
You'll notice I put M-bomb in both builds. As mentioned above M-bomb will only be used to deal with the Healing Adds in CDev. It was not calculated into either DPS.
If you are comfortable enough with jumping and using Homing Missile that you don't think you'll use M-bomb ever, then you can take that point and put it into either Orbital Bombardment (for Laser) or Lock-on (for bullet). Personally I find M-bomb easier to pull off.
*Stats*
This is going to be a little lacking, but that's mostly because there isn't much more to say about this stuff, though I do want to make sure to highlight some special case uses.
So, of course, you should be aiming for the 30% piercing if possible, 15% phy. piercing which is possible with a roll on the gun and gloves, 90 accuracy this should be enough for you to not miss while attacking C.Dev specially if you have an Archer in the party, and of course you'll want Boss Damage. These are pretty standard.
Now for the not so standard stuff. Heavy Gunners, unlike most of the other class, can really take advantage of having a high Attack Speed. As stated above Bullet Spray and Rapid Fire Electric Blast both fire off faster the higher your Attack Speed is. It's also been confirmed that this affects our reload speed, which is a huge bonus to us, as the less time we have to spend reloading the more damage we'll do, weather a Laser or Bullet build. Lastly it appears to also effect are dash speed, which I didn't even consider possible, which is great.
Reload and Dash confirmed by YoYoFigaroFigaro
The last one worth taking note of is Lightning Damage. While not ideal, if your running a Laser build it's not that bad. Rapid-fire Electric Blast, Magnetic Bomb, and Suborbital Bombardment all do lightning damage. So it's something to keep in mind
*Q&A*
Numbers are good and all, but there are just a few things missing from this post. What are your final conclusions from your findings? If Attack Speed was added to the mix, would it change the DPS race (Quite a few HGs have played around with Ancient Rune cannon, myself included)? Just a few things to add on, but interesting findings.
The only time Attack Speed would affect anything directly would be in the Bullet Spray vs Electric Blast debate. In this I did some math, you would need enough Attack Speed to get an additional 2 Bullet Spray, for a total of 6 Bullet Spray attacks, in a 4 second span, in order to surpass a rapid Electric Blast without any Attack Speed.
I haven't officially put together test cases with numbers to show but from experience it feels that in a 10 man raid with class buffs the bullet spray builds out perform the electric blast builds. Although, outside of those scenarios the electric blast build performs better... I'm not saying its a fact but maybe something to look into / consider.
I have considered those. Fact is all the buffs that effect Bullet Spray effect Electric Blast builds in the exact same way. My best guess as to why it feels like Bullet is doing more damage is because bullet spray doesn't have to stop to reload, until you use one of your other skills. This gives the sense that's it's getting more shots off, and thus doing more damage.
Edit: All the stuff