Learn everything about the latest update in-game from the May 30 expansion patch notes!

>> http://maplestory2.nexon.net/en/news/article/48341/awakening-patch-notes
Did your "Striker Daily Wonders" somehow disappear even though you thought you claimed it? Read here first:

>> http://forums.maplestory2.nexon.net/discussion/45521/notice-regarding-striker-daily-wonders
Milln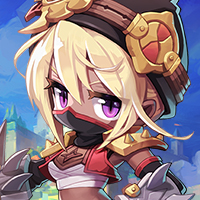 Maplestory 2 Rep: 1,225
Posts: 45
Member
edited

7:13AM

October 16, 2018
in Thief
One of those "Oh, so that's how it works." bits.

It's obvious once you realize it, but no one talks about it and some people need to be told why their damage number seems low and inconsistent.

Thief skills calculate damage off of both of your weapons, but separately. You have skills that attack with a singular weapon. The percentage modifier is per hit, yet also per weapon for the skills that use it, so it's kind of halved.


Daggers

Once you get to level 50 you can make it really obvious by equipping a purple and some random trash dagger you pick up from a monster drop. You'll swing for big damage, and then little damage.

Basic attack - Primary, Off-hand, Primary, Off-hand
Double Slash - Primary Hand dagger, then Off-Hand dagger.

Poison Edge is interesting and actually deals six hits across five attacks- Off-Hand, Primary Hand, then the third strike is two hits using the median damage between the two daggers, then both hand damage, both hand damage. This means that if you have a good dagger and a level 1 dagger you will swing for a low number on the attack that uses that hand, then on the third attack, it will take the middle spot and apply a damage range to it. However, this is still off of a Poison Damage calculation and might not necessarily be a dagger attack. More on that below.

For example, if you swing for, let's say 200-ish on your left hand and 4k-ish on your Right, the third strike of Poison Edge will hit twice for 2.3k-ish.

Same thing with Vicious Cuts. It takes each hand separately and calculates the damage *per dagger*

This is why there appears to be discrepancies between Percentage damage ranges. The calculation is correct; It's just applying the formula to the one hand you're striking with. Attacks that "use both hands" such as Mind Stealer/Breaker, Blade Dance and Somersault Kick show those numbers because it takes both weapons into account. The last two hits of Poison Edge do this, too.


So where does that put Poison Vial and Surprise Attack?

Surprise attack clearly calculates its damage with both hands, but something seems off about the poison explosion, right? This is actually correct, too.

"Poison Damage" is its own calculation, away from your physical attack.
Chuck a level 10 Poison vial and average the damage. Stick that into a percentage equation and find out what your average integer is sixty-two percent of. This is your Poison Damage. Multiply that by 526% for level 10 Surprise attack. It should be a very similar number for when you pop Surprise. Poison Damage doesn't truly care what is in your off-hand, by the way. It takes your right handed damage, but allows for bonuses from your left hand to apply.



What does this mean? Well that's a discussion for when it's not 5am.