During the October event period, the Escaped Moon Bunny world boss spawns at the following times:

NA West: 02:30 AM - 05:30 AM UTC
NA East: 11:30 PM - 02:30 AM UTC
South America: 10:30 PM - 01:30 AM UTC
Europe: 5:30 PM - 8:30 PM UTC
Oceania: 08:30 AM – 11:30 AM UTC
Some basic settings needed..
Bladehurts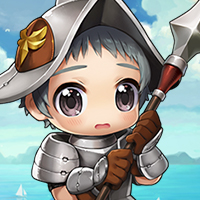 MapleStory 2 Rep: 590
Posts: 5
Member
Hello!
I wonder if it's going to be fixed with this maintenance today but there are some issues that are bothering me and I think it's very needed or at least for me.
First issue may be something that I missed but the cursor doesn't disappear from screen after few seconds of not using the mouse, It did disappear in MapleStory (1) so I wonder if it's on purpose here? If not... Is there a way to somehow fix it?
Second issue is , I have two monitors and first thing I did on Beta was to check if I can play on my secondary monitor which isn't the main one, Sadly... that option didn't exist which made it very difficult for me to play for a while.. and if I might add, I don't know if it happens just to me or to anyone else but I tried lowering the resolution since I was on my 4K monitor and couldn't see the interface very well... and when I lowered it , It wasn't on full-screen anymore even though it said that it is on full-screen.. (that was before I found out about Interface Size feature which is great, Thank you! , but I still think the issue should be fixed..)
Third issue is ... Is there a way to mute VERY VERY annoying mount sounds for example... the Duck? That people keep on spamming? the only solution I found also muted other sounds in-game and I didn't want that.
Fourth issue is , Since there are annoying sounds, There can be annoying text messages so I'd like to get a cure before the plague arrives and let players mute \ hide other players's messages just like in Maplestory (1).
Thank you so much and I hope this discussion isn't going to drown in the sea of discussions..