Please do not send inquiries to the Forum Moderators and Community Manager Cuddles regarding forum name changes. Exceptions are only made if the forum name violates the CoC. Thank you for understanding.
SmashSenpai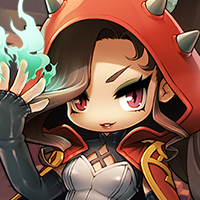 Maplestory 2 Rep: 1,420
Posts: 63
Member
edited

7:01PM

August 1, 2018
in Thief
Thief dpm tests on target dummies in the chaos lobby.

My damage shown is mainly for comparison sake. Note that any build involving surprise atk is very challenging to play and is usually the cause of the lower ranking. Every build uses max Vicious Cuts, because everything else pales in comparison. If you already play Thief, these short descriptions should be enough to tell you what the build looks like. If you don't play Thief, these descriptions are likely useless. I can provide links to any build, explanations, etc upon request.

1. 1.74m max deft combatant, haste, kick, mindbreaker, ds. 1 poison vial
2. 1.65m max deft combatant, haste, kick, ds, quickstep (!). 1 poison vial
3. 1.59m max ruthless guile, surprise atk, somersault kick, 3 ds, no haste
4. 1.55m max deft combatant, haste, ruthless guile, min double stab, 1 surprise atk
5. 1.46m max ruthless guile, surprise atk, haste
5. 1.46m max deft combatant, haste, ruthless guile, min double stab, 0 suprise atk
6. 1.44m max ruthless guile, surprise atk, no haste
7. 1.43m max ruthless guile, haste, 1 surprise atk
8. 1.41m max ruthless guile, 1 surprise atk, haste, and deft combatant (7 double stab)
9. 1.39m max deft combatant, haste, max surprise atk, no guile
10. 1.35m max deft combatant, haste, kick, 1 surprise atk, no guile

This is not intended to be a guide for what you should play. Raiding is not the same as fighting an immobile practice dummy.

Completely unrelated notes.

* As for other tests, anything involving stacking poison edge sucks. It's worse than all of these. Even more so in practice.
* Anything involving Blade Dance sucks. If you want to spin2win, play Knight or Zerk.
* Retaliation is the worst skill in the entire game. There is no way to passively boost evasion. Katvan's Horns, the most expensive item in the Black Market provides 3. You start with 80. There is no other equipment in the game that provides evasion that Thief can wear.
* Empowered Blade Dance provides 1 second of 81-99% percentage based evasion. So if you invest in a bunch of lousy skills, you can get a refund on the mp you spent, a 12 second atk buff, and 6 evasion. Not 6% mind you. Six.
* Thief doesn't know how to do math. If my Vicious Cuts (310%) deals 25k damage, Somersault Kick (382%) will do 40k damage, and proc'd Surprise Attack (584%) deals 20k damage.

Cunning effects since this is documented nowhere. All these skills remove your Cunning buff upon use.

Poison Edge
Deals roughly 20% poison damage each second for 13 seconds for each stack. Stacks up to 5 times. Higher levels increases the poison damage slightly, but damage range makes it annoying to test. 90% mastery wen? Also, since Thief doesn't give a crap about numbers in their skill description, 20% is in reference to the damage dealt by Poison Edge. So if Poison Edge deals 100 damage, then the poison will tick for about 20.

Surprise Attack
Increases the range of the attack. You swing your dagger horizontally instead of vertically. Like wow... you really needed to be empowered to do that?

Blade Dance
Grants a 1 second 81%-99% evasion buff. +2% per skill level. Also staggers enemies.

Somersault Kick
Stuns for 1 second. Also, this is unrelated to being empowered, but the jump/speed debuff lasts for 5 seconds.

Mesosguard "Plus"
Wow, it's actually in the skill description! BUT, they left one detail out: Makes the skill cost 0 mesos AND increases duration of the buff to 12 seconds (normally 4 seconds). 777 mesos is already cheaper than a potion! So they provided the least important part of the empowered effect.

Vicious Cuts
Deals DOUBLE DAMAGE. This is the good one.

Edit: Added Mesosguard Plus' additional cunning effect.