Please do not send inquiries to the Forum Moderators and Community Manager Cuddles regarding forum name changes. Exceptions are only made if the forum name violates the CoC. Thank you for understanding.
NXACuddles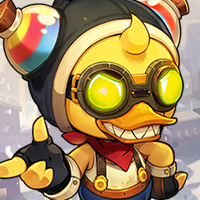 Maplestory 2 Rep: 61,855
Posts: 387
Administrator
Mushking Royale is coming to Closed Beta 2 for a special weekend of fun! This new take on the battle royale multiplayer game mode is our own little experiment. 
You and 39 other players enter a map filled with buildings, bombs, environmental traps, treasure chests and much more. As deadly spores shrink the amount of room you have to fight in, battle it out to become the last Mapler standing. But Mushking Royale isn't the same as the Battle Royale games that you've played before, thanks to MapleStory 2's combat and a few special innovations.
We're looking forward to seeing you dominate your fellow Maplers in Mushking Royale! And to add a little extra incentive for giving the mode a try, we're giving out fun Mushking Royale-themed in-game items, plus 
Founder's Packs
 for the best Mushking Royale players!
Learn more here >>
http://maplestory2.nexon.net/en/news/article/32824