[Edit] I mean a hunter polearm class.
Overn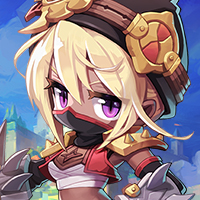 MapleStory 2 Rep: 1,005
Posts: 42
Member
edited

3:23PM

May 21, 2018
in Classes
I think one of my favourite weapons would have to be polearms, particularly ones which you can swing.. or both swing and thrust with. I am a bit less of a fan of spears but perhaps I just like a bit of weight behind the blade.

I never really got to play Aran on Maplestory either, I remember it was a limited time character and my brother ended up making one instead.. resulting in a rather unfair moment where he had a level 90+ Aran.. and I was stuck with a level 40-ish Evan with stats so bad I couldn't even use him.. which was why he never leveled up very high.

But yeah.. anyway, I think some sort of polearm character.. perhaps a "hunter" or some other sort of thing would be nice to see, a nice variety of close to mid-ranged attacks and perhaps even a beast companion to help out.

[Edit]
For those who misunderstood my original first post, and the title concerning it.. I tend to ramble on. Scroll down a bit for a sort of reply rant to people who thought I actually wanted an Aran-like Warrior class because I mistakenly put it in the title and mentioned it in my post. No.. go down, and I actually describe what I meant. Sorry about the rant, I've had a rough time irl.