Please do not send inquiries to the Forum Moderators and Community Manager Cuddles regarding forum name changes. Exceptions are only made if the forum name violates the CoC. Thank you for understanding.
Overall impression of the class
TrungTH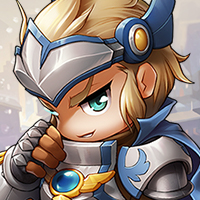 Maplestory 2 Rep: 565
Posts: 9
Member
edited

6:29AM

May 14, 2018
in Knight
Don't play the class.

Everything it has, another class can do better.

The only thing I see with this class is you can fight anything but will take forever, but dont get me wrong, the class is fun to play. It has unique skills with different effects and requires skill to execute everything properly. Aka the shield.

Some points to point out:
DPS - Really? No, does not matter if a skill is level 1 or 10, the difference is so small it is hilarious.
Raids - Seriously? With Priests range of heal it does not reach melee classes because they obviously want to stay away from the boss and stay with all the other ranged classes.
Shield usage - Does not block everything and you still take tons of damage with it on.
Defence - With the same gear as everyone else, you have slightly more because of the shield.
Shield skills - I'll protect you once every 2 minutes (A priest can protect you by healing once)
Perfect Block - Its based on RNG so why do we have as shield?

All damaging skills technically hit the same when calculating cast time, amount of hits and overall damage.
You have one that hits faster, but less damage.
You have one that hits more, but less hits.
You have something that hits a lot, but long wind up.
Conclusion: In a matter of 10-20 seconds, no matter what skill you hold down, you will end up hitting the same with any of the skills.

A priest is better at tanking honestly, unless they die in one hit which is most likely not gonna happen.

Now lastly, I have not tried PVP, but for the love of god, I really hope it shines there.

The class seems to be a bit too technical when it comes to a game like this. All you actually need is DPS. Ranged classes do this perfectly fine without being in danger or spending majority of their time chasing their targets.

Changes I would like to see:
- Aggro system? Otherwise I dont see a reason to drag a knight along for anything
- When you lose faith in the shield because it significantly reduces your damage output and replaces it with health potions which you can use mid animation.

Cannot think straight anymore so I'll stop this here.