Please do not send inquiries to the Forum Moderators and Community Manager Cuddles regarding forum name changes. Exceptions are only made if the forum name violates the CoC. Thank you for understanding.
DrakesBlue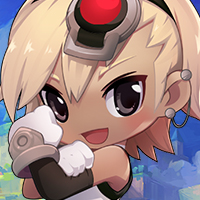 Maplestory 2 Rep: 795
Posts: 11
Member
edited

4:11AM

May 12, 2018
in Music
I decided to try out making a music sheet (just had to learn to read sheet music first) and threw this together. It's a bit simplified and lacks the intro because as far as I can tell chords aren't supported, although Harmony A and B are kind of faking it. The loop is around 650 long, so you can copy and paste it four times on a 3000 sheet. Just skip the first line on each section when you copy.
Melody
T130L16

A->C<A-FS0A-8S1A->C<A-FA-B->C<B-A-F
A>C<AFS0A8S1A>C<AFAB->C<B-AF
A->C<A-FS0A-8S1A->C<A-FA-B->C<B-A-F
A->C<A-F-S0A-8S1A->C<A-F-A-B->C<B-A-F-
A->C<A-FS0A-8S1A->C<A-FA-B->C<B-A-F
A>C<AFS0A8S1A>C<AFAB->C<B-AF
B->C+<B-F+S0B-8S1B->C+<B-F+B->CC+C<B-F+
B->C+<B-F+S0B-8S1B->C+<B-F+B->CC+C<B-F+
B->D<B-GS0B-8S1B->D<B-GB->CDC<B-G
B->D<B-GS0B-8S1B->D<B-GB->CDC<B-G
Harmony A
T130O3<

F4R8F8R4F4
G4R8G8R4G4
D-4R8D-8R4D-4
F+4R8F+8R4F+4
F4R8F8R4F4
G4R8G8R4G4
G+4R8G+8R4G+8R8
R8G+8R4G+8R8G+4
G+4R8G+8R4G+8R8
R8G+8R4G+8R8G+4
Harmony B
T130O3<<

F4R8F8R4F4
G4R8G8R4G4
D-4R8D-8R4D-4
F+4R8F+8R4F+4
F4R8F8R4F4
G4R8G8R4G4
G+4R8G+8R4G+8R8
R8G+8R4G+8R8G+4
G+4R8G+8R4G+8R8
R8G+8R4G+8R8G+4