Please do not send inquiries to the Forum Moderators and Community Manager Cuddles regarding forum name changes. Exceptions are only made if the forum name violates the CoC. Thank you for understanding.
lolzfail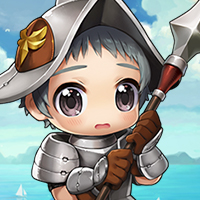 Maplestory 2 Rep: 1,125
Posts: 36
Member
edited

1:49AM

May 21, 2018
in Archer
Since there was already a
critical rate thread
, I was thinking, why not damage formula too. The damage formula is essential for strategies involving min-maxing, to avoid having to try things out one by one. However, there does not seem to be any information regarding the damage formula, so I would like the help of beta testers to provide data in order to reverse engineer the damage formula. As I do not have a beta key, most of my information was obtained from CMS2, which has its disadvantages, so it would be preferable to have data from the global servers.
IMPORTANT: The attack score in your character window is NOT an accurate representation of your actual damage. The formula for attack score and formula for actual damage are very different from each other.
First of all, I would like to introduce some terms, so I can use them without sounding confusing:
PA- Physical attack, the stat in the detailed stats part of character info
MA- Magic attack, also the stat in the detailed stats part, which I assume archers don't ever use
AP- attribute points, the points you can assign to your stats
str, dex, int, luk, crit - the 5 stats you can assign AP to
CR- the rate at which your hits are critical hits, not to be confused with crit
CD- crit dmg taken as a decimal number rather than a percentage, i.e. 1.25 is the base CD
CE- crit evasion
DM - defense modifier
RM - resistance modifier
WA- total attack gained from equips. In the case of equips like weapons giving a range a~b, WA will be determined by (a+b)/2
A formula for actual damage will be something like this:
damage = A * WA * PA * (1 + (CD - 1) * actual CR) * accuracy * DM * RM * skill damage
First of all, we need to calculate MA and PA. These are affected by dex/str/int and equips as follows:
MA = 0.35 * int
PA = 0.63 * dex + 0.175 * str
*These formulae are incredibly accurate, and can be used as the exact ones. It takes at least 1140 int to make a difference in 1 magic attack(and you should not be adding int anyway). For dex, it is at least 905 for 1 attack difference, and at least 142 str per attack difference in error(you shouldn't be adding str either anyway). One thing to note, however, is that this is only based on data from the archer class, so if you are not an archer
change to a real class like archer
this formula may not work for you, but do try to test and see if it does.
In
the critical rate thread
I have reverse engineered a formula of:
CR = luk/1000 + crit/1250
Crit damage as a stat from equips gives 0.1% CD per crit damage
Once again, this may not be correct, but the margin of error is very small(I believe somewhere along the lines of 100 luk to 1% crit rate, and 125 crit to 1% crit rate), so feel free to use it as if it were true. Do note that this is your BASE crit rate. There is crit evasion on enemies, which serve to reduce your actual crit rate.
Apparently there is a crit evasion stat. We do not yet know exactly how it works, but it should be one of the two models below:
actual CR =( luk/1000 + crit/1250 - (effect of CE))
and
actual CR =( luk/1000 + crit/1250) * (effect of CE)
As Crit evasion is not a stat we know for any monster, this can only be tested in PvP, where you know your opponent's crit evasion.
DM = 1/(defense * (1 - piercing))
RM = 1 - resistance(1 - resistance piercing) / 1500
How to collect data:
- If you create a new character, check your stats before equipping the weapon in the tutorial, as you will not be able to unequip it until lvl 5 or so.
- When gathering data, first unequip all stat boosting equips and make sure you have no buffs. Your PA should not have a (+x) beside it.
- It would be helpful to add your AP 1 by 1, in different combinations of str, dex and crit.
- Make use of stat boosting equips to further vary your stats.
- Make sure you are an archer, as i believe wizards and archers have different values, not sure about other classes. Data from other classes is welcome, but please indicate if you are not an archer.
Thank you for your time
Thanks to @DrYoshiyahu for providing some data, which helped greatly in finding the values.